4 weekends, 4 parties
Saturday, September 8, 2007
I woke up today to Kaylie giving me a birthday package that came in the mail. It really made my day. Receiving packages is ALWAYS nice~!! :blush: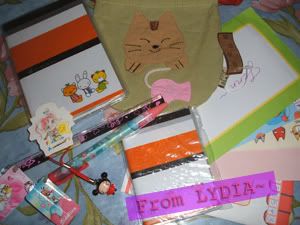 Today & the next THREE Saturdays I have kiddie birthday parties to attend. So I went to Mervyn's yesterday and got enough presents for 6 kids. One of the b-day parties is for twins and then my cousin's son turns one in November so I got his, too.
Today kicked off the beginning of the birthday parties. It was my friend's son's 2nd birthday. Kaylie had a blast since they had a water slide & jumper there. Not to mention all the little kids to play with. We got there at 2:45pm and stayed until 8:15pm. Yep, a very looong time indeed.

FLICKR/lovejenn
SCHOOL
I guess I should have watched my CD lectures that came with my textbook before I got all stressed w/ Stats. I'm actually doing REALLY well now. I'm even ahead of schedule, hehe~ I still have to take Exam #2 but I'll do that tomorrow. It's scary that I'm actually getting it now.
Friday 5
1. Who is your best friend?
I don't really have a "best" friend. I've parted ways w/ all the ones I had growing up. Ashley (my co-worker) is the closest person to being a bf since we tell each other everything. But we don't really hang out outside of work.
2. Why did you become friends?
We worked together in bookkeeping and always got along really good. Since then we've always worked side by side.
3. How did you meet?
At work when she transfered into bookkeeping in 2002.
4. Why have you stayed friends?
We make each other laugh so hard we cry. We know how to make work fun and like to talk about the top 10 co-workers that annoy us just by their presence, haha~
5. How long (realistically) do you think you'll be friends?
For a loooong time. We're both not really going anywhere.. work wise, so we'll be working together for awhile & having fun, at that.
rcv'd: Lydia