Three weeks have passed..
Saturday, July 11, 2009
Today I have a BBQ at 3pm so I'm trying to update before I go b/c I know I'll be too lazy to do it after wards.
Plus, I don't even know what time I'll be home!
I've been pretty busy the past 3 weeks~ Gosh, can't believe my last post what that long ago.. I seriously need to stop procrastinating when it comes to blogging. It's like I have so much to say but I put it off & then it complies into a ginormous post!! [WARNING]
Santa Cruz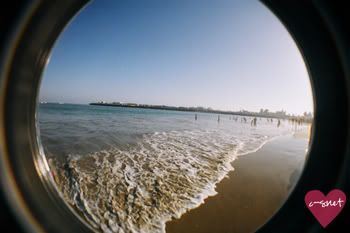 For our anniversary we ended up going to Santa Cruz for the day (Saturday, June 27th). We went to the Seymour Marine Discovery Center, the Boardwalk & Wharf. My sister was at the Boardwalk with the baby for her Company Picnic coincidentally so we got to spend time with them on the beach.
I was taking pictures of my nephew by the water and he ended up falling asleep sitting up, haha~
We spent the day at the boardwalk then went to eat at Gilbert's Seafood Grill on the wharf. I have never been there but Manuel has and it was surprisingly good!! :blush: It's about 98% seafood so I got the Fettuccine Alfredo and LOVED it~ Next time we go I want to eat there again..
4th of July
Nothing exciting happened on the 4th for me.
Not a single soul (in my family) was doing anything, sigh~ No BBQ, no nothing! I went to Wal-mart to get some 400iso film for my fisheye to take some firework shots & come to find out there were none. 😯 I had forgotten that they do the 4th of July ones in Central Park so the Amusement Park near us doesn't do them anymore.
Ice Age 3 & Transformers 2
I went to see both movies! I loved 'em both, too~ Ice Age 3 was really funny & Transformers 2 was bad ass. I just have THREE TIPS for when they start making the 3rd Transformer movie.. 1) Less sexual connotations 2) Less of Sam's parents & 3) LESS MEGAN FOX!! Geeze, I was starting to get sick of those face close ups.. her lips are just annoying to me, haha~ So obviously plumped up & unrealistic.
Lomography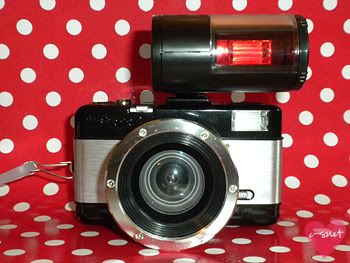 I've really gotten back into photography (or lomography) with my fisheye 2. So for my birthday at the end of the month I asked Manuel to get me the Holga 135BC & Golden Half. I kinda threw in the Colorsplash Flash but he doesn't know, hehe~ I'm still waiting for both cameras to arrive. I got the Colorsplash two days ago & haven't really experimented yet. I have an awesome place to use all my goodies at.. a salt marshland near my house.
Flickr
I've been slowly re-sizing & uploading my rolls of fisheye photos to my flickr. Here is the most recent upload (a lot more to follow):