Archive for the 'Concert' Category
Sat, December 1st '07
It's been awhile..
Wow, I haven't been on the net in a few days. Mostly b/c Kaylie's is ALWAYS on my laptop and also b/c I've been doing other things.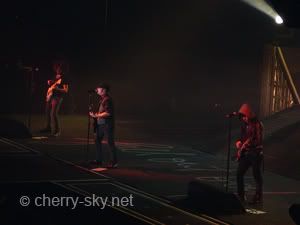 On Thursday was my Fall Out Boy concert. It was really good — my 2nd time seeing them this year! Last time was in January which was at a more intimate venue so there was no splashy pyro effects. Others who performed for The Young Wild Things Tour were Cute Is What We Aim For, Plain White T's & Gym Class Heroes.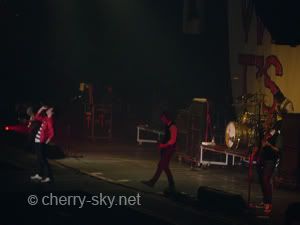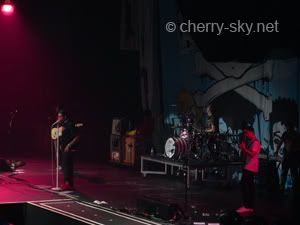 Yesterday I was in bed most of the day. Tired from getting up at 5am to go to work after going to bed at 12:30am due to the concert. I was going to stay home from work but Ashley went in so I told her I would, too. I got off at 12:15pm to get Kaylie from school so it wasn't THAT bad. I was done with all my work since I wasn't planning on coming in which was nice b/c I just hung out all day.
Today we're going to Claim Jumper at 3:30pm for my dad's birthday which is actually tomorrow. I already got him his gift on Black Friday so I'm glad I don't need to be running around today finding him one.
Besides that I'm just gonna be doing my Lib10 homework. My Stats stuff isn't due until Tuesday so that gives me a few more days of procrastination, haha~ I've actually done some of it already.
rcv'd 11/27: Dayze
Mon, November 19th '07
Monday's almost over, yay
Work went by rather quickly today. I got off at 12:15pm to pick up Kaylie from school. I love short work days! My HRM and I went to Costco to get drinks and pumpkin pies for our Thanksgiving lunch tomorrow. Costco is a good place to pass the time.
I can't wait for my 4-day weekend!!~ I'm really looking forward to it! 🙂 This past week I had a 3-day weekend and next week I'll have another 3-day weekend since I'm taking Friday, Nov 30th off b/c of The Young Wild Things Tour the night before. I enjoy my concerts more when I know I don't have to work the next day.
The Wilton instructor called and canceled todays class. I was really glad she did. I didn't feel like doing anything or driving anywhere for that matter. We'll start the 2nd class next Monday.
Oops, we forgot to have Kaylie do her homework over the weekend. I'm glad the teachers didn't ask for it when I dropped her off & picked her up, hehe~ I felt really bad though. I was busy doing all my homework I totally forgot about hers. This is the first time they gave out homework, too.
//
Index