Archive for the 'Friday 5' Category
Fri, May 1st '09
Lotsa Forever21
Thanks for all the input regarding the Japanese course. :blush: I've decided that I really want to take it so I'm going to register for it. I also might take an online summer course called Web Page Design with XHTML. I've already taken 4 Creating Web Page courses so this one shouldn't be a challenge just fun. I wanted to take Digital Photography during the Fall but that would mean I'd be at school Mon – Thu from 7pm – 9:30pm & I'm positive I can't hang with that! Maybe in the Spring~
Since coming back to work after Spring Break I'm surprised the week went by rather quickly!! :cheery: Although I was 40 minutes late today, oops. My BlackBerry Storm was acting up AGAIN this time there was no sound coming from it, i.e. no ringtone when the phone rang or alarm clock beeping~Â 
Thankfully being late wasn't much of a problem.
Manuel's sick again.. at least the swine flu has been ruled out. I was kinda freaked out because he had ALL THE SYMPTOMS! 
His HR & the nurse practitioner both told him to stay home today. It's funny b/c whenever he gets sick I never catch it.. hopefully I didn't just jinx myself.
Next are some photos from the past three Forever21 shopping trips I went on during the last two weeks… Notice eco-bags with each purchase, hehe~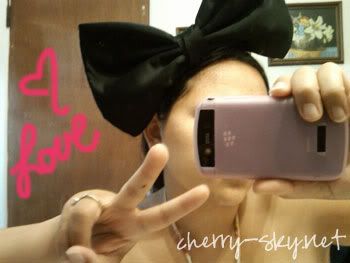 Modeling the grandeur bow headband..
Sun, July 27th '08
A Little Bit of Nothing..
Oops, looks like I disappeared for a few days. I haven't really been on the net lately.. just not feeling it.
Haven't been up to much.. Kaylie's been kicking my butt in Wii bowling. OMG, she is so good.. strike after strike!
I asked for Mario Kart Wii for my birthday & Manuel's aunt is going to get it for me so that saves $50 of my own money, hehe~
I also want Guitar Hero: On Tour DS (another $50). I can't believe my birthday is in less that a week!! *Feeling old..
//
Index