Archive for the 'Fun Stuff' Category
Fri, April 25th '14
Day Trip to San Francisco
Last week was Kaylie's Spring Break. I wanted to make it fun so I took the week off from work and planned a few day trips. First, we went to San Francisco ~ Pier 39, Rainforest Cafe & Kinokuniya. I must say I HATE the roads in SF; they have so many one way streets AND no turns! I had to make a few big loops just to get back to where I was trying to go. That is why I've only driven there THREE TIMES on my own.
Pier 39 always reminds me of when I used to go as a kid. I loved going & I hope the girls do, too. Trish's Mini Donuts are A MUST! There are plenty of shops and places to eat. You can see Alcatraz across the bay and watch the sea lions sunbathe. Parking, on the other hand, isn't cheap.. it cost me $32!!
The only Rainforest Cafe close to us is the one in San Francisco. I LOVE their Rastapasta sometimes I even crave it. It's a short walk from the Pier so anytime we go I always try and eat there. Maddie was scared almost the entire time we were dining. She doesn't like loud noises plus it's pretty dim inside and the scenery comes to life about every 15min. She loved the store though! Oh and I forgot to bring the hot shoe flash for my Olympus Pen so I couldn't really take any pictures inside the dining area, ugh!
Kinokuniya was an after thought. I mentioned going to Kaylie when we were walking back to the car & she really wanted to go. So.. after a few missed streets, not finding parking and lots of extra driving we finally made it there. I thought it was going to be a lot bigger than it actually was. Don't get me wrong, it's pretty big especially compared to our local one that got super condensed when they relocated inside of Mitsuwa (it's about 1/3 the size it used to be, sigh.)
Sat, July 11th '09
Three weeks have passed..
Today I have a BBQ at 3pm so I'm trying to update before I go b/c I know I'll be too lazy to do it after wards.
Plus, I don't even know what time I'll be home!
I've been pretty busy the past 3 weeks~ Gosh, can't believe my last post what that long ago.. I seriously need to stop procrastinating when it comes to blogging. It's like I have so much to say but I put it off & then it complies into a ginormous post!! [WARNING]
Santa Cruz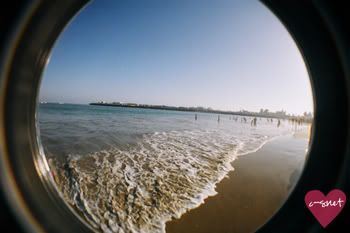 For our anniversary we ended up going to Santa Cruz for the day (Saturday, June 27th). We went to the Seymour Marine Discovery Center, the Boardwalk & Wharf. My sister was at the Boardwalk with the baby for her Company Picnic coincidentally so we got to spend time with them on the beach.
I was taking pictures of my nephew by the water and he ended up falling asleep sitting up, haha~
We spent the day at the boardwalk then went to eat at Gilbert's Seafood Grill on the wharf. I have never been there but Manuel has and it was surprisingly good!! :blush: It's about 98% seafood so I got the Fettuccine Alfredo and LOVED it~ Next time we go I want to eat there again..
//
Index