Archive for the 'Mail' Category
Sat, September 8th '07
4 weekends, 4 parties
I woke up today to Kaylie giving me a birthday package that came in the mail. It really made my day. Receiving packages is ALWAYS nice~!! :blush: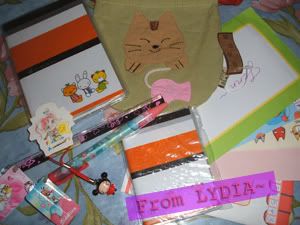 Today & the next THREE Saturdays I have kiddie birthday parties to attend. So I went to Mervyn's yesterday and got enough presents for 6 kids. One of the b-day parties is for twins and then my cousin's son turns one in November so I got his, too.
Today kicked off the beginning of the birthday parties. It was my friend's son's 2nd birthday. Kaylie had a blast since they had a water slide & jumper there. Not to mention all the little kids to play with. We got there at 2:45pm and stayed until 8:15pm. Yep, a very looong time indeed.
Wed, September 5th '07
School blues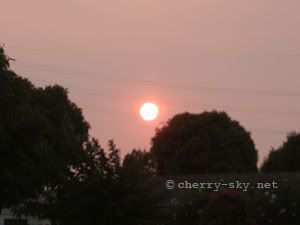 The sun looked pretty cool today so I had to take a picture, hehe~ Taken: 7:02pm
My Statistics class is kinda stressin' me out. It's hard/confusing & there's a lot we have to do each week. Out of our "To-Do" list I've only done the reading and started on the online homework. There's like a million more things to do by 11pm Sunday night, sigh~
We had our final orientation meeting last night. The teacher showed us how to use Excel to do some statistics. We have 4 Excel Lab assignments due through out the semester. The first one she did about 80% of the work w/ us in class so at least I'll get a good grade on that one, hehe~
My first online exam I totally bombed! 🙁 I didn't study much since I got the book the day before but I thought I'd do better than I did. I'm glad she's gonna drop the lowest 3 scores. Too bad one of them was on the Intro to Stats.
I haven't even read what's due this week for my Library class. I kinda skimmed over an email that said it was gonna be a "light" week so we could start on Week 4's assignments if we wanted. That's a relief.
Got a package today… R e a d m o r e . . ?
//
Index