Archive for the 'Mail' Category
Wed, August 22nd '07
I want you all over me
I got my M by Mariah Carey perfume in the mail today.. a day early, yay~ 🙂 The rollerball that I thought they weren't going to send me was in the box with it. I was soo happy to see it, haha~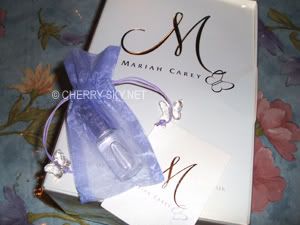 I'm kinda sad though. When they packaged my order they smashed the perfume box. And if you know me.. you know I'm SUPER ANAL and I can't stand things like that. Soooo.. I'm going to rebuy it at Macy's and then return the box that's smashed. Yes, I'm that anal & crazy, haha~ It's not really bad but I can't deal w/ it.
Kaylie and I went to the mall today & no on had the perfume yet. It was just released so it might take a little while longer for Macy's to carry it, sigh~ That means I can't wear it until then.
But.. I did buy L.A.M.B. by Gwen Stefani today so I'll be wearing that in the mean time. It smells so good. The title of this post is what's written on the front of the box.
I also bought another Tokidoki bag. Since this is the LAST YEAR he's collaborating w/ LeSportSac I decided to get it. Otherwise I'd be on eBay in a few weeks trying to buy the same bag, haha~ Yes, I am aware I have issues.
Thu, July 5th '07
2 movies, 2 days
Today: Partly Cloudy
Hi: 93° Lo: 64°
Hope everyone's 4th of July wasn't as hot as mine, hehe~
After we went to my grandma's for the BBQ yesterday we went to Manuel's mom's house to go swimming. It was still 91° at 5pm. 😮 We were at the pool for 2-1/2hrs. It felt sooo good but it was extremely crowded; the first time EVER!
Today Kaylie, Heather, Alina & I went to see Ratatouille. It was a cute movie – I liked it. Kaylie & Alina kept asking if it was over, haha~ 😀 They were more entertained w/ the cartoon showing during the ending credits then with the entire movie.
Tomorrow a bunch of us (8 so far) are going to see Transformers. I've been a bit skeptical but.. I've only heard good things thus far. Hopefully I'm not disappointed. I grew up watching the original cartoon series and I don't like when movies are made totally different from the original idea. I'll let you know my take on it afterwards.
I came home from lunch today to see I got The Red Jumpsuit Apparatus Deluxe Edition CD in the mail. I ordered it from Best Buy over the weekend — It only took 3 working days & shipping cost $1.65… I'm happy.
SO GLAD TOMORROW IS FRIDAY~
//
Index