Archive for the 'Movies' Category
Sun, April 6th '14
Online Shopping
I finally did it! I ordered my Olympus Pen yesterday! My dad knew I've wanted one for a very long time & when I told him they lowered the price (by $300 & added an extra lens) he told me to order it. He's the BEST! It should be here by the weekend which is perfect timing for Spring Break. I will definitely be using it for our mini day trips that I have planned.
I have been ordering A LOT this past week! All the things I've been wanting to buy that I've just been holding off on I ordered this week. I will be getting lots of packages in the mail that's for sure! I'm excited to blog about all of my new purchases, too.
Kaylie had Friday off so we went to the movies & had dinner with her cousin and her mom. We saw Muppets Most Wanted. Now I will be honest and say that I really did not want to watch it. I was really surprised that it wasn't as bad as I was dreading it would be. I was entertained throughout most of it especially since they had a slew of guest appearances. It was, however, a bit on the long side. I think it could have been 1-1/2hrs instead of close to 2. Afterwards we ate at Tomatina, an Italian restaurant. The girls had fun & it was nice to get out.
For the rest of the weekend on Saturday Kaylie had a softball game then I met my dad, brother, sis & uncle at Ikea. We ate and walked around. Today Lorina, Maddie & I checked out the new Walmart Neighborhood Market that just opened up this week. Then Kaylie, Maddie & I met my dad, brother & sis at Mitsuwa and Kinokuniya. Had dinner at Happi House then went to visit my mom at the Rehabilitation Center she's at.
A few things I picked up from Mitsuwa + Kinokuniya:
My Beauty Diary

Japanese Cherry Blossom Mask
Bulgarian White Rose Mask
Black Pearl Mask
Kracie Facial Mask – My Favorite Pack

Super Supple
Super Moist
Clear
Tightening
Baby Foot
Rose of Heaven
Sweet Magazine

Feat. Rinka
FREE Kate Spade Saturday Tote
Sat, July 11th '09
Three weeks have passed..
Today I have a BBQ at 3pm so I'm trying to update before I go b/c I know I'll be too lazy to do it after wards.
Plus, I don't even know what time I'll be home!
I've been pretty busy the past 3 weeks~ Gosh, can't believe my last post what that long ago.. I seriously need to stop procrastinating when it comes to blogging. It's like I have so much to say but I put it off & then it complies into a ginormous post!! [WARNING]
Santa Cruz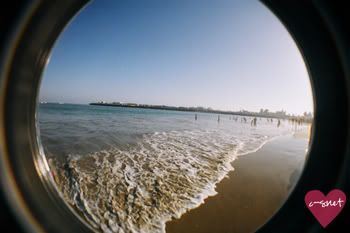 For our anniversary we ended up going to Santa Cruz for the day (Saturday, June 27th). We went to the Seymour Marine Discovery Center, the Boardwalk & Wharf. My sister was at the Boardwalk with the baby for her Company Picnic coincidentally so we got to spend time with them on the beach.
I was taking pictures of my nephew by the water and he ended up falling asleep sitting up, haha~
We spent the day at the boardwalk then went to eat at Gilbert's Seafood Grill on the wharf. I have never been there but Manuel has and it was surprisingly good!! :blush: It's about 98% seafood so I got the Fettuccine Alfredo and LOVED it~ Next time we go I want to eat there again..
//
Index