Archive for the 'Work' Category
Tue, May 5th '09
Nothing Exciting..
Hmm, not much to blog about today~ I was suppose to go to my 2nd job tonight but I'll be going in tomorrow instead. I was also suppose to go to Costco but I'm feeling super lazy whilst eating mushroom pizza & garlic twists. 😉
This weekend wasn't too eventful. Saturday I slept in until 3:30pm then attended Manuel's cousin's son's 1st Communion at 5pm. Another reminder why I don't go to church, haha~ I'm just not into it! Afterwards we went to a Mexican restaurant then to his cousin's house to watch the Pacquiao vs. Hatton fight. Once we got there & ordered it we were only able to watch a whopping TWO MINUTES then it was over, gah~ *EPIC FAIL
Sunday I didn't really do anything except go to Target & spent $100 on nothing spectacular.. food, snacks, a curling iron & Kaylie wanted the game Sorry! Sliders.
Last Thursday my work laid off two aides in my classroom. So basically up until I go to lunch at 11:30am it's Ashley (aide) & me; we used to have four of us!! 🙁 Our enrollment is pretty low right now that's why they had to lay them off. Yesterday we had 4 kids until 1pm & today we had 6. Typically we had 10 until 1pm. I like having fewer kids, hehe~
Fri, May 1st '09
Lotsa Forever21
Thanks for all the input regarding the Japanese course. :blush: I've decided that I really want to take it so I'm going to register for it. I also might take an online summer course called Web Page Design with XHTML. I've already taken 4 Creating Web Page courses so this one shouldn't be a challenge just fun. I wanted to take Digital Photography during the Fall but that would mean I'd be at school Mon – Thu from 7pm – 9:30pm & I'm positive I can't hang with that! Maybe in the Spring~
Since coming back to work after Spring Break I'm surprised the week went by rather quickly!! :cheery: Although I was 40 minutes late today, oops. My BlackBerry Storm was acting up AGAIN this time there was no sound coming from it, i.e. no ringtone when the phone rang or alarm clock beeping~Â 
Thankfully being late wasn't much of a problem.
Manuel's sick again.. at least the swine flu has been ruled out. I was kinda freaked out because he had ALL THE SYMPTOMS! 
His HR & the nurse practitioner both told him to stay home today. It's funny b/c whenever he gets sick I never catch it.. hopefully I didn't just jinx myself.
Next are some photos from the past three Forever21 shopping trips I went on during the last two weeks… Notice eco-bags with each purchase, hehe~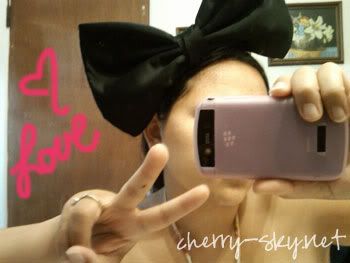 Modeling the grandeur bow headband..
//
Index