Sun, November 14th '10
New BlackBerry Storm 2
I had a 4-day weekend & I truly enjoyed it!!
Although I did have a 6am meeting today 
but I was able to fall back asleep when I got home much to my surprise. I ended up taking a 4hr nap. :cheery:
For those of you that follow me on twitter you already know I got a new BlackBerry Storm 2~
I've had the original BB Storm since Feb 2009 and its caused me so much grief but by now I had learned to live with it. Typically the first model of any electronic device has its share of bugs & this was definitely no exception. My sister is actually on her 6th one! Every time I went to Verizon they gave me some excuse not to exchange mine so after a few tries I gave up & dealt with the problems. X_X
Anyhow.. long story short on Friday I fell while crossing the street & my phone went crashing down with me. (I'm fine just a few scrapes & bruises but I will survive. I was more embarrassed & in shock but luckily no one saw me, lol.) After the fall my phone would start to load like normal and then an ERROR message would appear.
After 8+ battery pulls with the same result I took it to Verizon. They were not able to fix my phone & none of the stores including the warehouse carried it anymore.. lucky me! So now I'm the happy owner of a BB Storm 2~~
Fri, May 1st '09
Lotsa Forever21
Thanks for all the input regarding the Japanese course. :blush: I've decided that I really want to take it so I'm going to register for it. I also might take an online summer course called Web Page Design with XHTML. I've already taken 4 Creating Web Page courses so this one shouldn't be a challenge just fun. I wanted to take Digital Photography during the Fall but that would mean I'd be at school Mon – Thu from 7pm – 9:30pm & I'm positive I can't hang with that! Maybe in the Spring~
Since coming back to work after Spring Break I'm surprised the week went by rather quickly!! :cheery: Although I was 40 minutes late today, oops. My BlackBerry Storm was acting up AGAIN this time there was no sound coming from it, i.e. no ringtone when the phone rang or alarm clock beeping~Â 
Thankfully being late wasn't much of a problem.
Manuel's sick again.. at least the swine flu has been ruled out. I was kinda freaked out because he had ALL THE SYMPTOMS! 
His HR & the nurse practitioner both told him to stay home today. It's funny b/c whenever he gets sick I never catch it.. hopefully I didn't just jinx myself.
Next are some photos from the past three Forever21 shopping trips I went on during the last two weeks… Notice eco-bags with each purchase, hehe~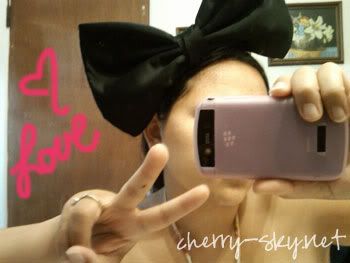 Modeling the grandeur bow headband..
//
Index