Sat, July 11th '09
Three weeks have passed..
Today I have a BBQ at 3pm so I'm trying to update before I go b/c I know I'll be too lazy to do it after wards.
Plus, I don't even know what time I'll be home!
I've been pretty busy the past 3 weeks~ Gosh, can't believe my last post what that long ago.. I seriously need to stop procrastinating when it comes to blogging. It's like I have so much to say but I put it off & then it complies into a ginormous post!! [WARNING]
Santa Cruz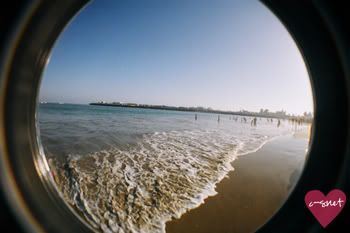 For our anniversary we ended up going to Santa Cruz for the day (Saturday, June 27th). We went to the Seymour Marine Discovery Center, the Boardwalk & Wharf. My sister was at the Boardwalk with the baby for her Company Picnic coincidentally so we got to spend time with them on the beach.
I was taking pictures of my nephew by the water and he ended up falling asleep sitting up, haha~
We spent the day at the boardwalk then went to eat at Gilbert's Seafood Grill on the wharf. I have never been there but Manuel has and it was surprisingly good!! :blush: It's about 98% seafood so I got the Fettuccine Alfredo and LOVED it~ Next time we go I want to eat there again..
Sun, June 21st '09
Busy Havin' Some Fun..
HAPPY FATHER'S DAY~!!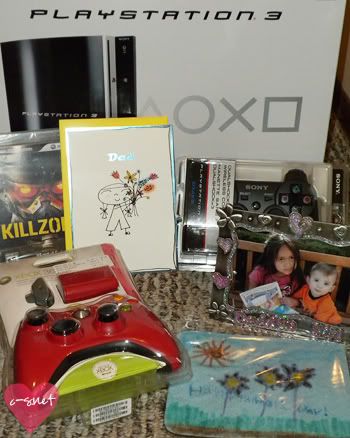 Manuel surely got lucky this year!
Kaylie made him a mouse pad at school & got him a red XBOX360 controller & a Daddy's Girl picture frame. I ended up getting him a PS3 which came with a free extra controller & bought KillZone2 for it. I didn't want to spend $400 but figured it'll be his Father's Day & Anniversary present, hehe~ Our 4yr wedding anniversary is in 4 days.
We ate at The Cheesecake Factory with my family. It was a bit stressful & irritating in the beginning since we got there 30+ minutes before anyone else!
They were about to give our table away but luckily my family showed up with like a minute to spare, geeze~
---
I can't believe how time has been flying lately. I've been pretty busy the past two weeks but mostly doing fun stuff! 😉
I have been on the internet but only to do a few things:

Pay bills
Dress up Poupee
Check/Respond on FaceBook
So my emails & rss feed have been off the charts!! I started going through my 1,091 emails last Sunday but stopped when I had 465 left. I finished going through them at school yesterday whilst listening to the lecture, haha~ My rss feed has over 300 items but I'm going to start working on that later~
So I'll begin by listing off what's been going on lately..
//
Index